Where are we building?

GINO'S HOMES will build on our lot or yours, inside or outside of Winnipeg.
We are currently building in the following areas with "fresh/new" lot releases:
(Please click on highlighted areas for more information on that specific area.)
---
DON'T MISS AN OPPORTUNITY: Building lots are moving FAST!
Take advantage of historically low interest rates - build the home of your DREAMS!
---
ANNOUNCEMENTS:
GINO'S HOMES is now acquiring build lots (reasonably priced) in the new Waterford Green Development.
GINO'S HOMES also has a limited number of build lots available in Royalwood - Going FAST! Developer Map

---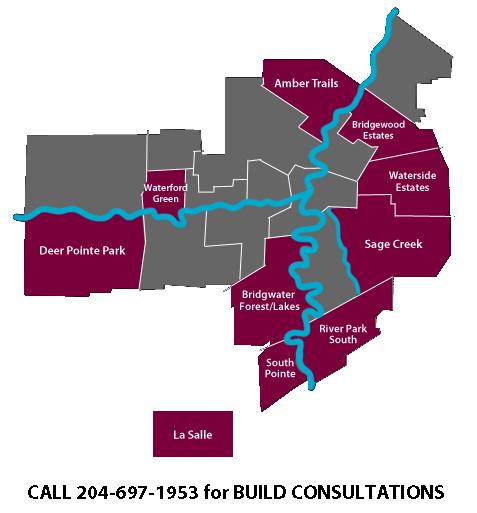 ---
How does the G.S.T. Rebate work & do I qualify?
---

---
South Pointe, located in the south west quadrant of the city.

One of Winnipeg's newest subdivisions that has really taken off and has exceeded all expectations. A hop, skip and a jump from Bridgwater Forest and Bridgwater Lakes. (View Map)

The development of Waverley West will provide more than 11,000 new homes, apartments and complexes. The province owns part of the land the city has proposed for development. The 20-year project, which has been carefully analyzed and reviewed by the city, will meet the growing housing demand in Winnipeg.

The community of South Pointe is a seamless blend of natural beauty and modern living. From the unique nature-inspired entrance way to the community, to its parks filled with native prairie grasses and plants, South Pointe fits right in with Mother Nature. A prairie wetland-inspired with ponds and interconnecting creeks.

"We can hold a lot on your behalf for up to 5 days (ANY DEVELOPMENT) while we determine how best to accommodate your needs" added Ledo-HOUSE-KEY.

Look for our name and signs "exclusively" within this development (NOW) as this is Our NEW "Home Base" from which we sell Winnipeg and surrounding areas.

When you think GINO'S... think Ledo-HOUSE-KEY (with RE/MAX Executives). We are your "direct" and "inside" connection at GINO'S HOMES - the finest custom built homes in Manitoba. Contact Ledo-HOUSE-KEY for details on these or any other developments at 204-697-1953. Our lot or yours, we can "build it right" for you!

Multiple Award Winning GINO'S HOMES is the leader in quality custom built homes since 1968.

Further "sampling" of "some" listings here.

Contact Ledo-HOUSE-KEY at 204-697-1953.

SHOW HOME - ITZSOLD

ALSO: SPEC HOME - BUYME

School Announced

Guide to French Immersion Schools in MB
---
Bridgwater Forest (Waverley West)


Bridgwater Forest is ready for your DREAM HOME!

Located in Winnipeg's desirable southwest quadrant, this 20 year project will provide more than 11,000 new homes, apartments and complexes. The provincially- owned Waverley West lands are intended to be a green, walkable community accessible to a range of incomes and families, from those with young children to seniors. Featuring classic round a bouts, lakes, parks, schools, shopping, playgrounds, forests and walking trails Waverley West is the perfect place to raise a family! (Phase 5 Map & Phase 6 Map)

Located only 3 minutes from the University of Manitoba and all of the ammenities of south Winnipeg.

Contact Ledo-HOUSE-KEY at 204-697-1953 for a build consultation in Waverley West!

SPEC HOME - ITZSOLD

School Announced

Guide to French Immersion Schools in MB
---
Bridgwater Lakes (Waverley West)

Winnipeg's premier custom builder, GINO'S HOMES, is pleased to introduce Winnipeg's hottest newest area... Bridgewater Lakes. (View Map)

This unique subdivision is located immediately east of Bridgwater Forest (including the future Kenaston Blvd extension) and west of South Pointe.

It is no secret that the first Phase of any development is usually the best time to buy. Homesites will be primarily lake and lake view, with an emphasis on the 'visitable' construction. What this means is access to the front of the home, as well is the interior, will be accessible (visitable) to all, including people confined to wheel chairs. Unbelievable walk-out lots located on a gorgeous lake.

Contact Ledo-HOUSE-KEY at 204-697-1953.

SHOW HOME - BUYME

School Announced

Guide to French Immersion Schools in MB
---
Sage Creek is a unique community, more sophisticated village than city suburb and features a rich variety of home styles, a vibrant Village Centre and acres of parklands, public reserve, greenways, playgrounds and community amenities. (View Map)

Sage Creek is a community of the future offering the possibility of a more holistic lifestyle, in a pedestrian-friendly neighbourhood where nature is part of the plan.

The public reserve and parklands will incorporate wetlands for catchment and natural filtration of rainfall and run-off water. Planted with native grasses, wildflowers, shrubs and trees, these 'natural corridors' will contribute to cleaner water, cleaner air, and a healthier ecosystem for you and your children.

Contact Ledo-HOUSE-KEY or CALL 204-697-1953.

SHOW HOME- BUYME

School Announced

Guide to French Immersion Schools in MB
---
GINO'S HOMES - PHASE 2 - DEER POINTE PARK - adjacent to Breezy Bend Golf & Country Club in Headingley. Large Lake Lots and Park Walkouts. Don't wait! Just a few gorgeous lots left for the entire development.

WOW! Only three two lots + Show Home available in this popular development.
"Let's make a deal" on this exquisite home given that we are down to our final build lots and the Show Home is no longer needed. Call US for a sweet deal at 204-697-1953!

ENJOY TRUE "COUNTRY ESTATE" LIVING AT ITS FINEST!

A fabulous opportunity to build with Gino's! (View Map)

Located within the much desired community of Headingley directly off Roblin Blvd, this new residential community offers opportunities for you and your family to enjoy walk out properties with your choice of building onto the picturesque Breezy Bend Golf & Country Club, or, an architecturally designed eco-friendly lake; or take advantage of the privacy a mature treed lot will offer.

This community has been specifically designed for walk out properties giving the home owner opportunity to design their window views around the landscape.

SHOW HOME - BUYME

Guide to French Immersion Schools in MB
---
Nestled between the banks of the La Salle River and the Kingswood Golf Course.

Many of the lots on Medinah Drive either back onto a forest and the La Salle River or onto the picturesque Kingswood Golf Course. (View Map)

Kingswood Golf and Country Club is a 18-hole facility located in South Eastern Manitoba. Built on rolling terrain surrounding the LaSalle River, Kingswood combines both visual delights and the challenge of one of Manitoba's top golf courses. The first four holes make their way through a residential community with both water and traps strategically positioned. The Fifth hole is a short par 3 that is the first of five well treed holes that follow the meandering of the LaSalle River and present both scenic beauty and a golfing challenge comparable to only the best courses.

La Salle is the largest urban centre in the RM of Macdonald. The community is rapidly growing, serving as a bedroom community for the City of Winnipeg.

Contact Ledo-HOUSE-KEY at 204-697-1953 to plan your DREAM HOME in this friendly, accessible community with its stunning setting.

SHOW HOME - ITZSOLD

Guide to French Immersion Schools in MB
---
Ledo-HOUSE-KEY, Your GINO'S HOMES Sales Team, is pleased to announce they have some amazing home sites available in Waterside Estates. (View Map)

WOW! Only three two lots left in this popular development. CALL 204-697-1953.

Located to the south and west of Dugald & Plessis, Waterside Estates will offer amazing park and walkout lots with some of the most affordable pricing currently offered in Winnipeg.

"The demand for a higher end community like Waterside is outstanding!" states Ledo-HOUSE-KEY. "Finally potential neighbourhood buyers can custom build while staying within the general proximity of their friends and preferred area while others can also custom build into this new exciting development too!"

Contact Ledo-HOUSE-KEY on this (or any) great opportunity at 204-697-1953.

SHOW HOME - ITZSOLD

Guide to French Immersion Schools in MB
---
Bridgewood Estates

GINO'S HOMES is pleased to announce that we are now building in Bridgewood Estates! Area is located relative to Harborview South and North Kildonan.
(View Map)

We are actively preselling this area and you are encouraged to call to reserve your spot in this new development.

We sell all areas and developments with the very best in customer service, attentiveness, knowledge and professionalism.

Contact Ledo-HOUSE-KEY at 204-697-1953 for this, or any other location of interest.

SHOW HOME - ITZSOLD

Guide to French Immersion Schools in MB
---
Amber Trails

Located in northwest Winnipeg, Amber Trails is one of Manitoba's most desirable communities. This large development boasts 38 acres of landscaped parks, 3 large lakes, playgrounds, a brand new school, transit access, and is in walking distance to abundant shopping, restaurants, a hospital and more. (View Map)

The feature that sets Amber Trails apart from other communities are the walkways that lead you from lake to lake and park-to-park, making evening strolls an incredibly enjoyable experience. This family friendly 400 acre development will offer approximately 1400 homes and one could be yours.

NOTE: NEW LOTS NOW AVAILABLE. Contact Ledo-HOUSE-KEY at 204-697-1953.



SHOW HOME - ITZSOLD

Guide to French Immersion Schools in MB
---
Multimedia Gallery

---

---
Ledo-HOUSE-KEY... Your GINO'S HOMES Sales Representatives

---