GINO'S HOMES

---
Multiple Award Winning GINO'S HOMES is the leader in quality custom built homes since 1968.

Ledo-HOUSE-KEY is your Gino's Homes Sales Team! We can still help you BUY or SELL any existing home or property in Winnipeg or surrounding areas. That has not changed. NOW we can fulfill even more dreams and aspirations for many with a new custom built GINO'S HOME.

The Cotroneos strongly reject any notion of turning their family business into a corporate assembly line. They remain true "custom" builders and as Gino's sons both say, "Quality workmanship, integrity, and value never go out of style".

"GINO'S HOMES has placed our showhomes/display homes in different areas of Winnipeg. The intent of our show homes is to have a convenient place for the buying public (regardless of where they live) to come view an example of our distinction. We build many different styles, and sizes of homes, all with one thing in common… Superior Quality! We would be happy to build you a home on our lot or yours, inside or outside of the city" states the Master Builder.
Now when you think GINO'S... think Ledo-HOUSE-KEY (with RE/MAX Executives). We are your "direct" and "inside" connection at GINO'S HOMES - the finest custom built homes in Manitoba.
---
"Welcome to The Family!"
Ron and Vanessa Ledohowski of Winnipeg-based
Ledo-HOUSE-KEY sign deal with Winnipeg custom home builder, GINO'S HOMES.
- - OFFICIAL (2011) "NEWS RELEASE" - -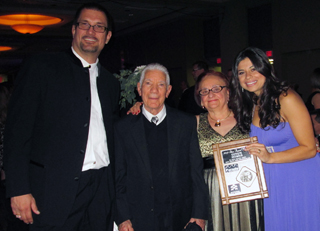 Ron & Vanessa with GINO'S HOMES patriarch & matriarch at 2012 Gala Awards Dinner
| | |
| --- | --- |
| | |
| Chris & Sara Thorburn with Ledo-HOUSE-KEY in Atlanta | Visit by Eric Fehr bearing gifts at GINO'S HOMES |
Andrew Ladd and Mike Richards hanging out and playing billiards in Eric Fehr's Home built by GINO'S HOMES. TSN CLIP:

---

---
Curt Keilback endorses Ledo-HOUSE-KEY:
Quote from one of the many happy Ledo-HOUSE-KEY clients:
"Ruben and I would like to express our gratitude for being pro-active in the acquisition of our home. You made things easy for us and we are satisfied with how you managed situations for us."

"You give service more than what you are 'paid' for. I will surely recommend both of you to my relatives and family."

"Our relatives and friends admire Gino's Homes; and, they are convinced that if it is Gino's Homes, it must be good."

"We are now in our new home --- enjoying every part of it. Once again, thank you for any extra service extended."
Cheers,
Renee (& Ruben) Manacsa

A seamless, coordinated acquisition of a gorgeous lakefront property and sale of their existing home.
Ledo-HOUSE-KEY is dedicated to providing 100% SATISFACTION leading into an exciting build experience.
Our expertise, knowledge and exceptional customer service are simply unsurpassed.
NOTE: BUYING OR BUILDING A NEW GINO'S HOME WITH US?
Ledo-HOUSE-KEY HAS A V.I.P. PROGRAM THAT CAN SAVE YOU MONEY
WHEN LISTING, MARKETING AND SELLING YOUR "EXISTING HOME" - ASK US!
---
GINO'S HOMES currently has display homes open in the following areas and Ledo-HOUSE-KEY would be pleased to give you the tour of these as well as any completed or upcoming "spec homes" and any of our homes under construction. Call Ledo-HOUSE-KEY at 204-697-1953 to view:
Click to view FULL 2-page (pdf) FEATURE ARTICLE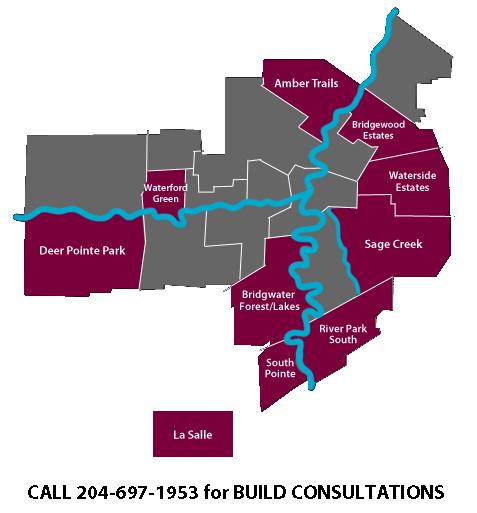 ---
How does the G.S.T. Rebate work & do I qualify?
---
Where are we building?

---
Multimedia Gallery

---
GINO'S SHOW HOME - WAVERLEY WEST (SOUTH POINTE):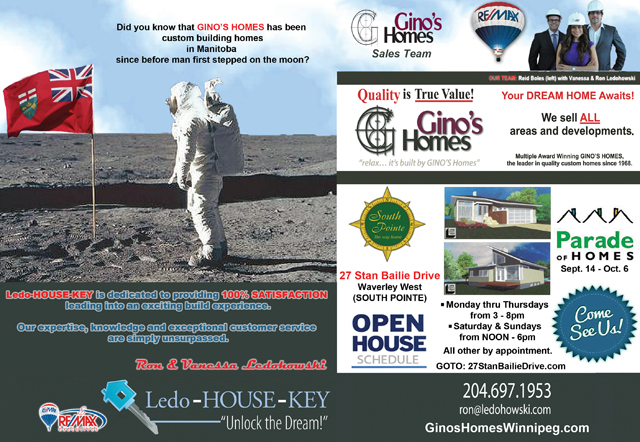 Further "sampling" of "some" listings here. Call Ledo-HOUSE-KEY for these or any other at 204-697-1953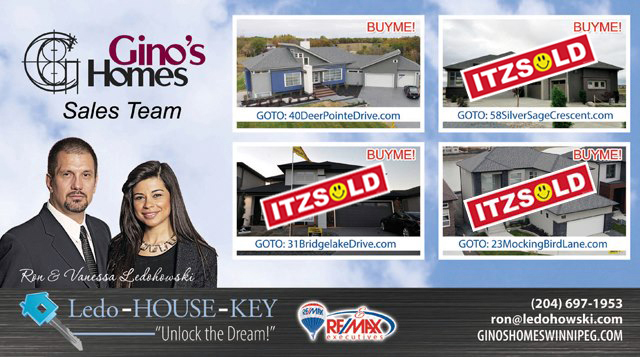 ---

---
Latest City Board Campaign:
What's the difference between a real estate agent and a REALTOR®?

"REALTOR®" and "real estate agent" are not interchangeable, although some real estate agents might like them to be. The term REALTOR® is a registered certification mark that identifies the quality of services rendered by licensed real estate agents who are members of The Canadian Real Estate Association (CREA). All real estate agents are not REALTORS®, but all REALTOR® members are real estate agents. REALTOR® members are committed to a strict code of ethics known as the REALTOR® Code, and are the only ones who have the right to list your property on the MLS® Systems of their local real estate boards. To correctly be referred to as a REALTOR®, a real estate agent must be a member of CREA. CREA owns the MLS® and REALTOR® trademarks, which signify a high standard of service and identify members of CREA.
PROUD MEMBER OF:
SportStar Relocation
Winnipeg Real Estate Board
Manitoba Real Estate Association
Canadian Real Estate Association